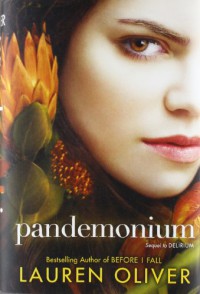 Review originally posted at my blog
Chasing Empty Pavements
Oh how I'd been pining to read this novel. I had to get through quite a few review books in order to read it, but finally, I could wait no longer! I was beyond nervous before I started reading it. Would it match up to the heart-pounding excitement I felt during Delirium? Would it be the same without Alex? There were so many questions, so many unknowns but ten pages in, I knew I was safe. I knew this book would be just as good as te first. I'm going to skip the summary as this book doesn't really make sense unless you've read the first and if you've read the first then you really don't need to know the premise for this book. Anywho.
The Good: What's not to love about Oliver's breathtaking writing? Picking up Pandemonium was like going away to college and coming back home to sleep in your old comfortable bed with all your favorite trinkets and toys piled around you. Oliver's writing is like coming home. There are some stories you just connect with. You fall in love with them whether or not you realize it and every time you touch on that love, it's an easy, comfortable relationship. So I guess that was the first thing I really loved about this novel. To be more technical though, there were so MANY things I really loved about the sequel to Delirium. The novel is broken up into "Then" and "Now." I thought this was a really brilliant way to break up the chapters and Lena's story. It also made me royally agitated because just as I was really getting into one section, the next chapter would start and I'd be left wondering what came next. (Which is exactly why Oliver did it, but damn woman, I hate the suspense sometimes!) I know a lot of people said that this novel wasn't as good as Delirium, but I happen to think it was as good if not better. I LOVED Lena's character development throughout this story. She grew by leaps and bounds in this novel and I was seriously impressed with how attached I grew to her. I liked her in Delirium, but to be honest, I wasn't head over heels for her. She kind of drove me nuts with how passive and naive she was. But that girl is LONG gone in this novel. I enjoy novels with kick-ass girls, but I especially enjoy kick-ass girls who have a reason to kick-ass. It's this determination, this primal survivalism within her that makes her character grow so well in this novel. She preserves, she persists in her endeavors even when she thinks it's the end. She goes against the grain to stand for what she believes in. THAT is why she is such a kick-ass character. I actually really liked Julian too. I wasn't sure how I'd take the little romance thing between Lena and Julian, but he's different then Alex and I liked him with Lena a lot. I kind of associate the two relationships like this: Lena and Alex are symbolic of innocence, experimentation, first loves, intensity and passion. The "before." Lena and Julian represent the "after." Lena has been hardened, she's rough around the edges. She's both calm yet fiery. Things are more calcuated this time around but yet her draw to him is reminisicent that you can't control everything. That sometimes catching amor deliria is the best thing to happen. I loved the action in the novel and even though I'm still trying to figure out how I feel about Raven, I feel that she will become more important in the next novel. Now for the total SCREAM OUT LOUD ending... WOW. Lauren Oliver sure knows to end her books on cliff-hangers. Damn you Lauren Oliver. I don't want to wait another freaking year for the next book!
The Bad: Nada! Not one thing I disliked about this novel!
Of course this book earned its A+ rating!