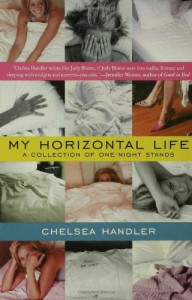 Originally published at my blog
Chasing Empty Pavements
I have been a fan of Chelsea Handler for a long time and I can't believe I didn't pick up any of her books until now. I actually started reading this on my iPod at the gym when I was bored of the treadmill and decided to get on the eliptical, but I needed some major distraction. This did the trick. This. Book. Is. Ridiculously. Funny. AHHH!
The Good: The one thing about Chelsea Handler is that she expects nothing and you know when you start this book that it's not going to be some great literary adventure and you're not going to walk away with any deep philosophical thoughts. This book's author prepares you for exactly what you're going to get... a crazy, sexilicious book of romps that is hilarious. I didn't expect anything more from this book and I found that I actually enjoyed reading a book that was for pure entertainment and laughter than anything else.
The Bad: Nothing bad about this book! The only thing I can say is that I wonder how much of it is actually true....
Overall, a GREAT, FUNNY read that you won't regret diving into. A!!!