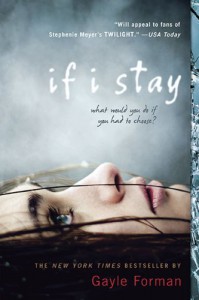 Originally posted on my blog
Chasing Empty Pavements
Gayle Forman is kind of like one of those "Godly" like names among YA readers/writers. I'm ashamed to say that it took me this long to read one of her books even though I bought the book on it's release day! Anyway, this book and Gayle Forman did NOT disappoint It's clear why so many people love her.
First of all, I loved the premise of this novel. It reminded me of Lovely Bones in the way that the characters are speaking from an other-worldly place. It's crazy to think about if that stage between life and death really happened. What if WE had the choice to stay or go? To live or die? I love that Mia is forced to think about both sides of the coin and the implications that both decisions would bring. Mia, the main characters is awesome. I love that she was kind of nonsensical, dedicated to her true love--music, but also had enough heart to fall in love with a boy. I loved their relationship and their story and I thought it felt realistic and true. It did feel like more of a "mature" love like her mom mentions in the novel and I liked that. I loved getting to know Mia and her family but I have to say, this is one of my all-time favorite "family" portrait books. Mia, her parents and her brother are all a tight unit and I love the way Forman wrote them. They're the type of family every kid wishes they could have. Mia's struggle to comprehend that life as she knew it is officially gone and decide whether or not she wants to be apart of a new life without her family is heart wrenching. I felt so many things with this novel but none so more than sadness and hope.
The only thing I really had qualms about in this novel were the flashbacks. I know they kind of needed to happen, but after the fifth or sixth one, I started to get rather annoyed. In my mind, I think I attribute the flashbacks to the fact that what else are you going to write about if your character is lying in a hospital bed dying and her soul is roaming about? But then I realized...there's A LOT she could have written about or done. It didn't need to be all flashbacks about Mia and her family. That's the part I felt was really missing from this novel. Action.
Overall, I really enjoyed this heartbreaking novel. I'm glad I finally picked it up and I can't wait to read Where She Went!